The Residents of Saint Peter Apartments in Columbia, Pa., have been traveling across the country this summer without even leaving town.
Several seniors living at the property participated in Step On It!, an initiative of Kindred at Home, a provider of home health care services.
Step On It! supplies pedometers to older adults and seniors to encourage and increase physical activity. The pedometers track each resident's steps, which were then logged and tracked by HDC MidAtlantic Resident Services Coordinator Dora Brown each week.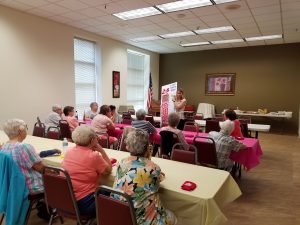 In a fun twist to encourage participation, residents decided to "walk" to different places around the country by combining their weekly steps.
During regular check-ins, Brown shared information about the group's weekly destination including facts on the area's landmarks, history, food and culture. Brown said she believed the destinations pique the resident's curiosity and they looked forward to choosing the next place to visit.
In the first leg of their journey, residents started at Saint Peter Apartments, then walked to Clipper Magazine Stadium in Lancaster, then to Assateague Lighthouse in Chincoteague, Va., then to The Wright Brothers National Memorial in Kill Devil Hills, NC, and finally to Mercer House in Savannah, Ga.
While the trek is over 2 million steps, the group went above and beyond by walking nearly 3 million combined steps. They celebrated this major milestone with a party featuring culinary delights inspired by the destinations they "visited" on their way to Savannah.
Health and wellness is among five key focus areas HDC MidAtlantic's Resident Services prioritizes. Resident Services Coordinators like Brown look for innovative ways to engage residents and encourage participation in wellness activities.
Staying active is especially important as we age to stay healthy and prevent against chronic conditions like obesity, diabetes or cardiovascular disease. Brown said several residents participating in Step On It! shared that they'd lost weight since starting the program or saw improvements in conditions they're managing like diabetes.
Step On It! has contributed to participants emotional health, too. Residents connect over a common interest and build stronger relationships with each other, all while indulging in some friendly and healthy competition.
Brown plans to continue the program as long as the residents are active and participating. They are currently "on their way" to St. Louis Cathedral in New Orleans, La.