HDC MidAtlantic is committed to partnering and working with companies that align with our values of racial equity, diversity, and inclusion. As a generator of economic opportunity in 17 counties in Pennsylvania, Delaware, and Maryland, we believe that we can do more to advance equity and extend opportunities to diverse-owned businesses.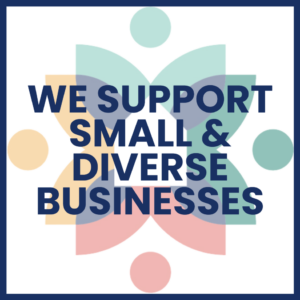 Our Supplier Diversity Program is part of our commitment to racial equity and aligned with our organizational values of excellence, equity, collaboration, community, and integrity. The program is designed to generate economic opportunities for local, minority, women-led, and disadvantaged businesses.
Our goal is that by 2025, 25% of HDC's discretionary spending supports Minority Business Enterprises (MBE), Women Business Enterprises (WBE), and special designation businesses in construction, real estate development, property management, and corporate expenditures. HDC only requires a self-affidavit from businesses asserting their status and will support their work toward certification.
HDC is committed to creating a positive impact in people's lives through sustainability, resilience, well-being, diversity, inclusion, and research across the following categories:
Appliance/Repair Parts
Asphalt/Sealcoating
Cabinet Supply/Installation
Drain Clogs
Drywall
Duct Cleaning
Electrical Service/Supply
Elevator
Engineering/Architecture
Environmental Consulting
Fencing
Fire Alarm/Security System/Access System
Flooring
General Contracting
Gutter/Window
Cleaning/Pressure Washing
Handyman Services
HVAC
Janitorial
Junk Hauling/Cleanup
Lighting
Locks
Masonry
Mower Sales/Repair
Painting
Pest Control
Plumbing
Roofing/Siding/Gutters
Snow Removal
Sprinkler System/Fire
Pump/Backflow Prevention
Translation Services
Trees/Landscaping
Tool Rental
Tubs
Windows/Doors/Glass
Water Treatment
Want to learn more? Email Tammie Fitzpatrick, HDC Chief Operating Officer, at tfitzpatrick@hdcweb.org.