HDC MidAtlantic received a Best Practices award in property management from the Pennsylvania Housing Finance Agency (PHFA) for Henner Apartments in Womelsdorf, Pa. The property was recognized for its outstanding performance highlighting its effective waitlist management, apartment turnover procedures and low vacancy rate.
"We are committed to making every vacant apartment ready and available to people in need of affordable housing as soon as possible," said HDC MidAtlantic President and CEO Dana Hanchin. "HDC MidAtlantic has an outstanding team of dedicated and professional staff and high performance standards to ensure our residents have a safe and affordable place to call home."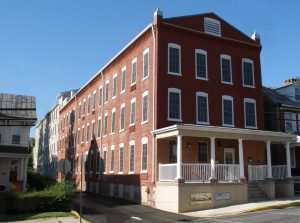 The award was presented at PHFA's 2018 Multifamily Affordable Housing Conference in June.
Built in 2007, Henner Apartments features 27 one-bedroom apartment homes for seniors age 62 years and older.
Founded in 1971, HDC MidAtlantic is a 501(c)(3) nonprofit providing quality affordable rental homes to 4,800 residents including working families, seniors and individuals with disabilities throughout Pennsylvania, Delaware and Maryland. HDC MidAtlantic owns, develops and/or manages more than 3,700 affordable apartments by delivering high-quality and secure housing solutions through innovative property management, real estate development and resident services.
HDC MidAtlantic is part of the NeighborWorks network, an affiliation of more than 240 nonprofit organizations located in every state, the District of Columbia and Puerto Rico. The NeighborWorks network was founded and is supported by NeighborWorks America, which creates opportunities for people to live in affordable homes, improve their lives and strengthen their communities.