Save the date! NeighborWorks America and network member organizations across the country will celebrate their communities during the network's annual NeighborWorks Week from June 1-8. During the week, NeighborWorks member organizations will bring together residents, business people and government officials to transform, strengthen and honor their communities through a variety of events and celebrations.
HDC MidAtlantic, a NeighborWorks network organization, will be hosting a "Preservation Celebration" on June 5 to celebrate the recent completion of a $21 million multi-community renovation which preserved 208 apartments in Dauphin, Lancaster and York Counties. HDC MidAtlantic will also spotlight and celebrate its membership in the NeighborWorks network during the event.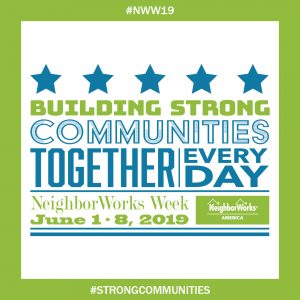 HDC MidAtlantic became a chartered NeighborWorks network member in 2016.  Since then, the organization has received more than $998,000 in flexible grants and awards from NeighborWorks. Most recently, HDC HDC MidAtlantic was awarded a $326,000 grant in April to support its mission and its services including affordable housing and community development activities. In addition, NeighborWorks also provides training opportunities for HDC MidAtlantic board, staff and residents in property management, resident services, resident leadership and other community development areas.
"We could not do what we do without the support of NeighborWorks.  They are a great partner that strengthens HDC MidAtlantic's capacity to advance our mission providing affordable housing to those in need," said HDC MidAtlantic President and CEO Dana Hanchin.
The NeighborWorks network is comprised of nearly 250 nonprofit organizations located in every state, the District of Columbia and Puerto Rico. In fiscal year 2018, the NeighborWorks network provided 457,000 housing and counseling services; owned and managed 166,900 rental homes; and created more than 41,100 jobs. The NeighborWorks network was founded and is supported by NeighborWorks America, which creates opportunities for people to live in affordable homes, improve their lives and strengthen their communities.
Founded in 1971, HDC MidAtlantic's mission is to build hope and opportunity by providing a safe and affordable place to call home to 5,000 residents including families, seniors and individuals with disabilities throughout Pennsylvania, Delaware and Maryland. HDC MidAtlantic owns, develops and/or manages more than 3,700 affordable apartments by delivering high-quality, affordable housing through innovative property management, real estate development and resident services.