The Pennsylvania Department of Community and Economic Development (DCED) awarded HDC MidAtlantic Neighborhood Assistance Program (NAP) tax credits for contributions totaling $250,000 to support the development of affordable housing in Lebanon County.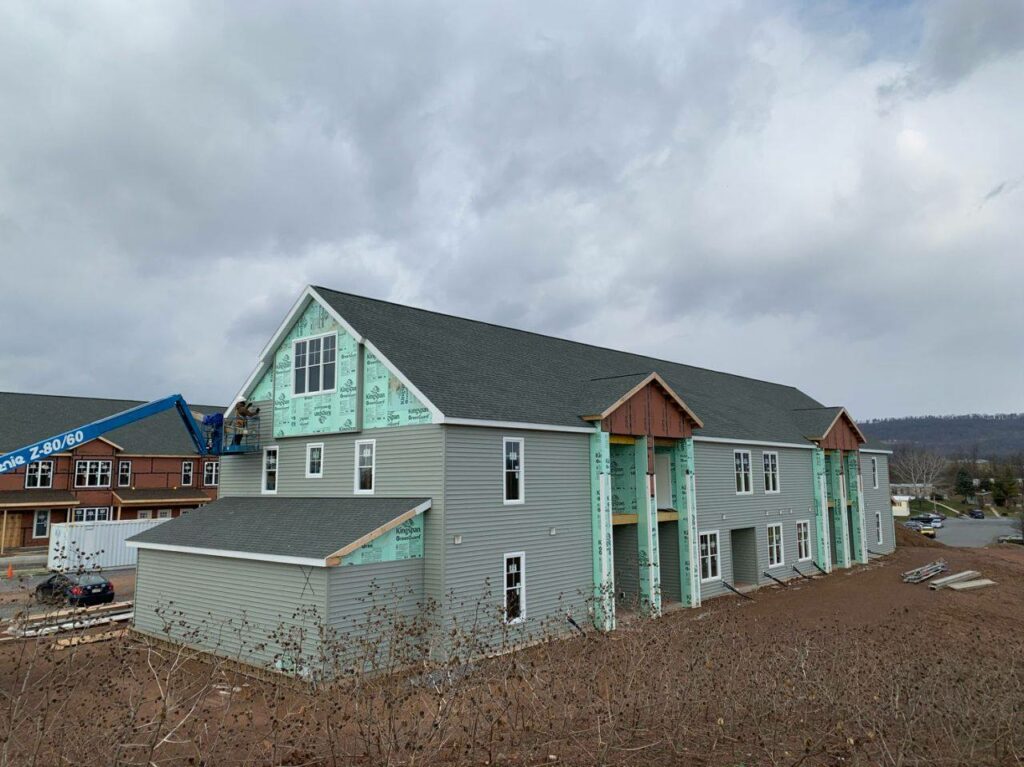 HDC MidAtlantic will receive $200,000 from First Citizens Community Bank; $25,000 from M&T Bank, and $25,000 from Truist. Contributions will assist in developing 51 affordable apartment homes at HDC's Beach Run Apartments which is currently under construction in rural Fredericksburg, PA.
The area is in severe need of housing that is affordable for lower-income residents, specifically employees who travel from other parts of the region to work at the area's major employers and essential workers meeting the demands of a growing local economy in Fredericksburg.
"HDC receives hundreds of calls a month inquiring about affordable apartments in Lebanon, and Beach Run is an example of how HDC can partner with communities to address local housing needs," said HDC President and CEO Dana Hanchin. "We know every family deserves a safe, welcoming affordable place to call home, but we also know we can't do this work alone. We are extremely thankful for partners like DCED, First Citizens, M&T Bank, and Truist for making Beach Run a reality in Lebanon County."
"Our ongoing dedication and commitment to our communities is just a part of who were," noted First Citizens Community Bank President and CEO Randall E. Black. "The communities we serve define who we are, because without them we are just another bank. Rather than focus on transactions, we focus on people and making a difference in their lives."
Beach Run will make this kind of difference. At nearby Deer Lake Apartments, also owned and operated by HDC, stable housing is making a positive impact on residents' lives. One resident living with a disability shares that during the COVID-19 pandemic she worked with the community's Resident Service Coordinator for budgeting assistance. She expressed to the Coordinator how thankful she was to find a safe, supportive, and affordable apartment in Lebanon, and has noticed her health improve because she is able to safely walk around the community every day. Beach Run will make it possible to impact more residents' lives.
Beach Run is located along North Center Street, just blocks from downtown Fredericksburg. The community will feature 51 modern, attractive, high-quality family apartments in 1-, 2-, and 3-bedroom configurations. Apartments will be available to households earning between $10,780 and $66,560 annually and rents will range from $202 and $1,320 per month based on income. The community will include six buildings, one of which will include a community room with kitchen and restrooms, offices, and laundry facility. On-site parking will be available to residents at no charge, and 10% of the units will be fully ADA compliant. Beach Run will also feature a playground, on-site management, and 24/7/365 on-call maintenance. HDC brings a people-centered approach to property management and will provide resident services that connect residents to local services and resources, increase access to other benefits, and create opportunities for residents to build community with each other and their neighbors.
The Pennsylvania Housing Finance Agency (PHFA) awarded $1,229,445 in Low Income Housing Tax Credits to finance Beach Run Apartments in 2019. The total cost of development is $14.5 million. Other committed sources of funding include Lebanon County Act 137 funds, PennHOMES, and a PHFA Agency First Mortgage. Additional development partners include Architectural Concepts, Arthur Funk & Sons, CREA, LLC, Fulton Bank, Nikolaus & Hohenadel LLP, and Steckbeck Engineering & Surveying, Inc. Construction is expected to be completed by Fall 2021, and the community expects to start the lease-up process in coming weeks.
About HDC MidAtlantic
HDC MidAtlantic envisions a world where a safe, welcoming, affordable place to call home is open to everyone. We believe home shouldn't be an impossible dream, it should be an attainable reality: we believe housing is a human right. We are resident advocates, trusted developers, property managers, community partners, and collaborators. We are part of the fabric of our towns and cities, and have been working with our neighbors since 1971 to create real change and meaningful connections. As champions of the greater good, we are committed to advancing equity, we open the door to opportunities, and we build homes that we can all be proud of.
HDC owns and/or manages over 2,900 apartments, providing housing that is safe and affordable to those with lower incomes, focusing on seniors, families, and individuals living with disabilities. Serving over 3,900 residents in 54 communities located in urban, suburban and rural areas across Pennsylvania, Delaware and Maryland, HDC builds hope and opportunity for all residents to reach their full potential by creating, preserving, and strengthening affordable housing communities.
About First Citizens Community Bank
First Citizens Community Bank is headquartered in Mansfield, Pennsylvania. They currently operate 31 offices throughout Tioga, Bradford, Potter, Clinton, Centre, Union, Lebanon, Lancaster, Schuylkill, Berks, and Chester counties in Pennsylvania, Allegany County, New York, and New Castle and Kent Counties in Delaware. For more information about First Citizens, visit www.myfccb.com or find them on Facebook.
About M&T
M&T Bank Corporation is a financial holding company headquartered in Buffalo, New York. M&T's principal banking subsidiary, M&T Bank, operates banking offices in New York, Maryland, New Jersey, Pennsylvania, Delaware, Connecticut, Virginia, West Virginia and the District of Columbia. Trust-related services are provided by M&T's Wilmington Trust-affiliated companies and by M&T Bank.
About Truist
Truist Financial Corporation (NYSE: TFC) is a purpose-driven financial services company committed to inspiring and building better lives and communities. Formed by the historic merger of equals of BB&T and SunTrust, Truist has leading market share in many high-growth markets in the country. The company offers a wide range of services including retail, small business and commercial banking; asset management; capital markets; commercial real estate; corporate and institutional banking; insurance; mortgage; payments; specialized lending; and wealth management. Headquartered in Charlotte, North Carolina, Truist is the sixth-largest commercial bank in the U.S. with total assets of $509 billion as of December 31, 2020. Truist Bank, Member FDIC. Learn more at Truist.com.