HDC has developed a unique homeownership program at Larkspur Crossing Townhomes in Manheim Township, PA (Lititz street address), creating the opportunity for current residents to purchase their home—a cornerstone of building family wealth and financial stability. Dania Figueroa Pacheco's family recently closed on the purchase of their home. Learn more about their journey to achieving this dream. 
Dania Figueroa Pacheco is a woman of deep faith. Her journey from Puerto Rico to owning her home in Larkspur Crossing Townhomes is a testament that her faith and hard work has been rewarded.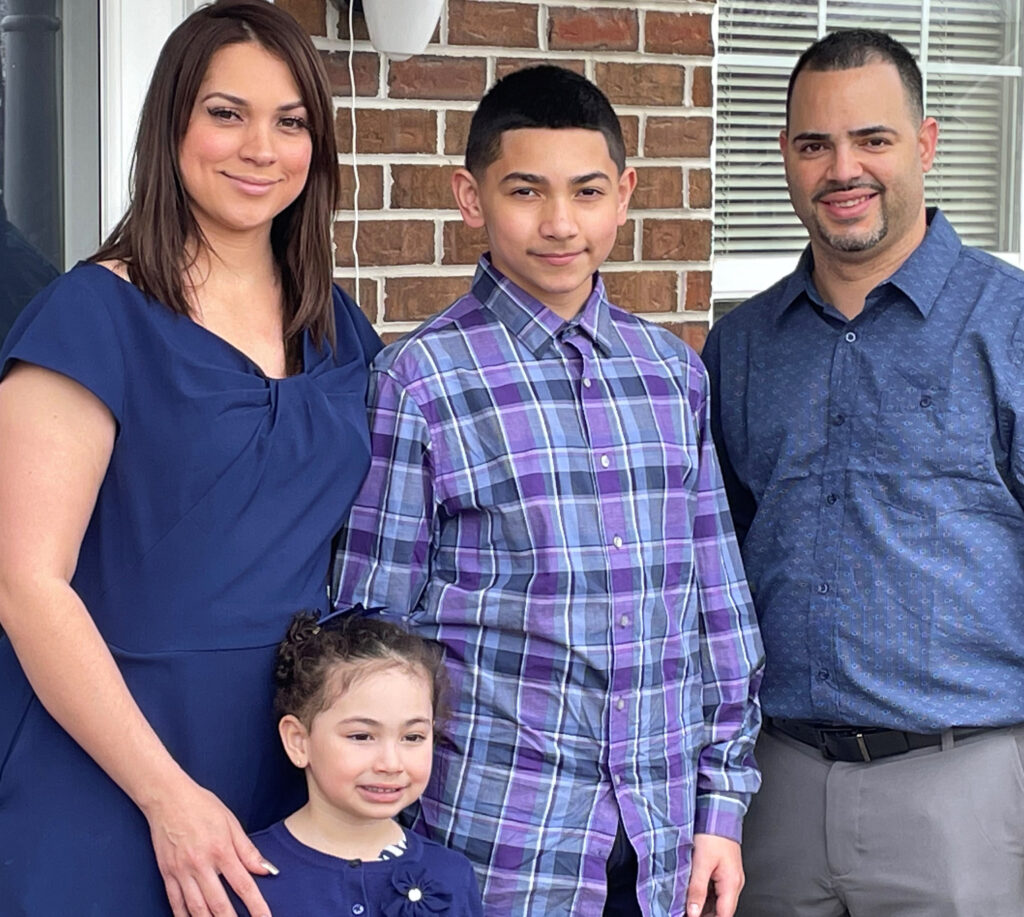 Along with her sisters and mom, Dania moved to Lancaster at 17 years old. After graduating high school, she met her future husband, Vincente Hernandez, and they moved into a mobile home and welcomed their son. They chose the mobile home so they could save for their future and build their lives. But even with both working saving for their future was hard, so Dania searched online for affordable housing and submitted her application for two HDC communities, Aster Place Apartments and Larkspur Crossing Townhomes. After eight years in a mobile home spending too much on high utilities, repairs, snow removal and landscaping, they moved into Aster Place and her family's life dramatically changed for the better.
"I was scared to take a risk and make a change," said Dania. "But Vicente and I knew that we wanted to build something meaningful for our family and we were never going to be able to do that while living in a mobile home. Moving into Aster Place was a dream come true."
Almost immediately, the family was able to save money and spend more on the children, and Dania was able to return to school to become a licensed certified nursing assistant (CNA). Living in Aster Place allowed Dania the financial freedom to take three months off work to take the necessary classes to fulfill her dream of training as a CNA.
The family had lived in Aster Place for a year when they learned they were about to welcome another child to the family. While the joyous news was welcomed, the one bedroom was not big enough for their expanding family. At that point, they received a call that a home was available at the Larkspur Crossing Townhomes.
Moving into Larkspur was life altering. They moved into a quiet corner townhome, close to the community park. She allows her son to play outside by himself and does not worry about forgetting to lock her car doors or leaving the bicycle on the porch at night. When they were offered the opportunity to buy the town house, Dania's initial reaction was, well, disbelief. "I did not believe it was true," said Dania.
The program is a partnership among HDC, Lancaster Housing Opportunity Partnership, Tabor Community Services, and qualified renters. Potential homeowners complete housing counseling education programs, which focus on household budgeting, credit scores, and the mortgage approval process. Once again Dania turned to her faith and asked for patience and trust to navigate the home-owning process. She asked a lot of questions throughout the process, took the required classes, and qualified for financial assistance towards closing. The end result? The family became homeowners with no money down, a below market purchase price, and fixed low monthly payments allowing them to budget and plan for their future. 
Dania and Vincent feel so blessed to be Larkspur homeowners. Living in the Manheim Township School District, her 12-year-old son absolutely loves school and she cannot wait for her 4-year-old daughter to start. Her commute to work is pretty good too–the assisted living facility where she serves as a CNA is right across the street. Dania and her family used to spend time imagining themselves in new cities and neighborhoods when traveling. Recently, though, she came to the realization that there is no place she would rather live. Welcome home, Dania and Vincente, welcome home!