When first approached to attend NeighborWorks Community Leadership Institute (CLI), Rocio was a little skeptical. She liked the idea of learning new skills to help neighbors in her Umbrella Works community, but she was not sure how it was all going to work, especially during a pandemic.
When Rocio moved into the Umbrella Works seven years ago, she found herself with extra time on her hands and wanting to learn new skills, she started volunteering in the office. She would have been content to continue that work if not for Ana Montanez, HDC's resident services coordinator at Umbrella Works, who inspired her to participate in the CLI.
In January, the HDC contingency of six residents and five staff members joined the virtual CLI program with hundreds of people from across the country to share knowledge, learn skills, and move their communities forward. Rocio was most struck by the differences in communities, yet all were experiencing the same kind of issues. She loved learning more about the community development world and what was happening nationally. The most important skill she learned was creating actionable plans that would benefit her community.
Upon completion of CLI, Rocio went right to work. She came up with three action plans—celebrating Earth Day, expanding the community garden, and creating welcome baskets for new residents. Though the Earth Day event was rained out this year, the garden was a great success. More residents than before joined the fun and grew a bountiful crop of fresh vegetables. She is still in the process of finalizing the welcoming baskets to ensure that new residents know they are joining a community, not just renting an apartment.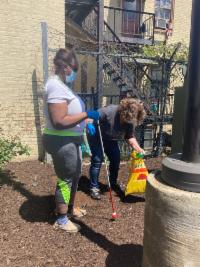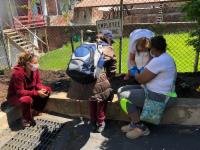 Since CLI, Rocio is discovering new opportunities to grow personally and exercise her leadership. She has gotten even more involved in her community and recently participated in a career development program. "It was inspiring to see people who were like me accomplish so much and made me realize that I want to keep moving forward despite challenges that get in my way," said Rocio. She is also part of HDC's design charrette working group, which is helping to develop design standards of excellence for HDC communities.
Rocio and the other HDC participants continue to keep in touch through text conversations and plan to meet in-person when it is safe. Before CLI, Rocio's title was office volunteer (by the way, she still volunteers at night when the office is closed to help out), but now she is known as "Community Leader." A title that is well-earned and one she will live up to.