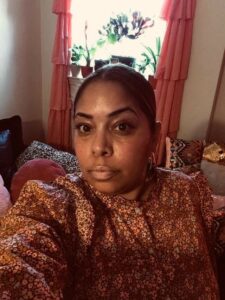 I have lived at Deer Lake for about two and a half years. I love the atmosphere, how quiet it is. The big thing I was looking up before I moved was the school and the crime ratings. It's so peaceful here, and that's what I wanted – peace.
This apartment has given me peace, comfort, and safety. My daughter feels very safe here and welcome. One day I want to buy a house, but I know my daughter wants to stay here. She is eight. She loves it here. She's always outside. Before we moved here, she said you never let me go outside like you do here. We have cameras and I feel safe.
We're a big family at Deer Lake. We live here. Where you live makes a connection with who you are. If you need to sit and talk with the property manager, I feel comfortable talking with him.
My home has improved my health conditions. I have fibromyalgia and arthritis. I can't be in loud, rowdy places. Here, I don't have to stress. The management comes and fixes things. If I need a new toilet, they order it and it's fixed. Anything I say I need, my needs are met. I speak up and I don't have to worry. Some places, you call management and they don't like you. But here, they understand who I am. It takes a lot of stress off my shoulders.
The goal here isn't to kick you out of your house. They want to meet with you and understand you. Other places, something happens and they're quick to kick you out. And that's not going to change anything. That's going to make it worse. Because we have a social worker on site. We have leaders. It's just so different here. I've never lived in a place like this.
I have bonded with one of my neighbors. We would talk and we just became close. She calls to check in and we get things for each other at the store.
When COVID started, I began cooking. I would pick up school lunches for the kids in the neighborhood. Food banks were giving out food, and I would pick up for other people. That helped me bond with other people in the community. I studied human services and social work, so helping people is something I like to do.
My apartment is helping me prepare to buy a house. I have taken the NACA class. I feel like whenever I'm ready, I can do it. It's a lot of responsibility.
I have been through a lot in my life, a lot of trauma. I have experienced sexual assault, domestic violence, and my daughter had a birth injury. I was homeless from June 2014 to August 2017.
I have another daughter who used to stay with me here. She has been hospitalized on and off since 2016. I advocate for her. In order to bring her home, I feel safer bringing her here. They are going to understand who she is and what she's gone through.
They understand that a lot of us have trauma. I know that the workers are taking trainings.
I love to advocate. Before I moved here, I worked at a women's shelter. I would help them get PFAs, go into the courthouse with them. Some people don't have education, so I would try to make them feel comfortable. I would speak for them. I have a certification in life coaching, so I like to lead. I like to help. I like to make a difference.
– Cathyria Q.