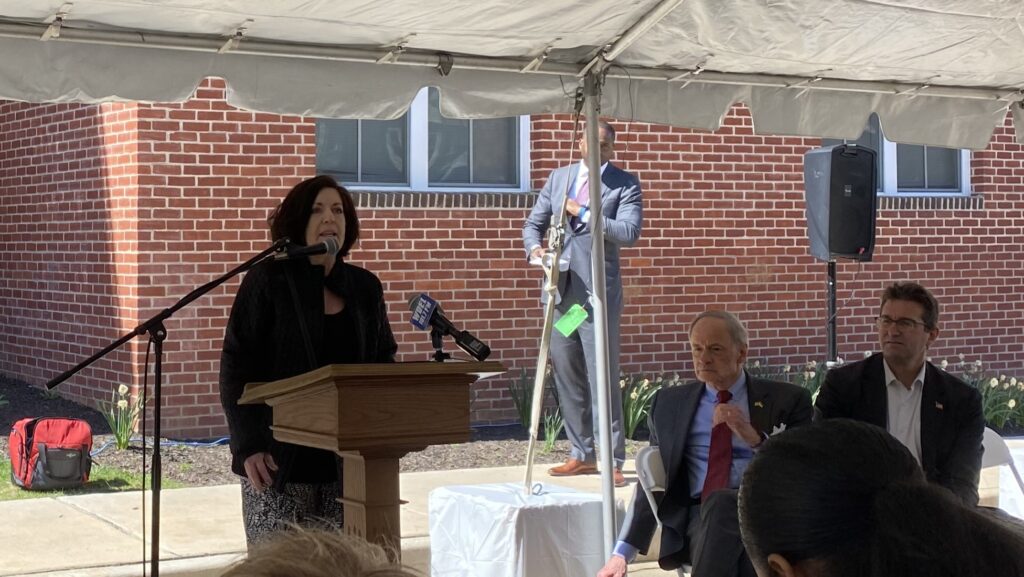 Affordable housing can be a necessity and a safe haven for residents from a variety of backgrounds and circumstances. Rebecca Macy, a resident at Flats III in Wilmington, DE, settled into her apartment after a series of difficult years that began with a devastating car accident. The money she had saved from her well-paying job eventually ran out as she experienced multiple surgeries, and she moved into a shelter with her son for a period of time. She now feels settled, is building a community at Flats III, and is looking forward to the future.
"You never plan on something like this happening, when you lose everything," she shared. "I wish I would have asked for help sooner. I want people to know that it's OK to fall and to ask for help."
Read more about Rebecca's story in her own words below.
I've lived in Flats III for two and a half years. I was a single mother. I was working and making good money. I had a mortgage. We were very comfortable. I was in a devastating car accident. It brought on a lot of PTSD. I went through surgery after surgery. You never plan on something like this happening, when you lose everything. Stability is important for families. You don't think this can happen to you, but it can.
After the car accident, I slowly ran out of the money I had. I had so much going on with surgeries. I couldn't wrap my head around the real-world stuff at the time. I was very ashamed of the situation I was in. I became paralyzed with fear. I wish I would have asked for help sooner. I want people to know that it's OK to fall and to ask for help.
The people I had for help and resources had all passed away. I was on my own. It was so unpredictable. We ended up in the Days Inn in Newark. I had no idea what would happen when I ran out of money. I was overwhelmed with the change in lifestyle.
The money did run out, and that's how I ended up in a shelter. All I had in my mind was what you see on TV. Giant rooms with beds in a line. It wasn't like that at all. I had my own room. It wasn't a hard thing to live through.
I realized I needed to call 211 to get help. They connected me with someone at the Porter Center. I worked with her while I was in the YWCA. She helped me get the application paperwork together and sent everything out. She was temporarily able to get us in SRAP (Delaware State Rental Assistant Program), which is a program through the school district to pay a portion of the rent while you're getting settled. I thought, let's see what comes up.
At the time, I really wanted something in the city. I love living in a city. I wasn't driving at the time.
This was my first choice. It was on the nice side of town. I really like the neighborhood a lot. The park, the library. The school district here is phenomenal. I got the call back within three months, maybe because the brand new building just went up. After I moved in here, I received phone calls from two other properties. I was able to tell them thank you, but no thank you.
My son, he has autism. He's highly functioning, but stability is important for kids to thrive. Since we've been here, he's thrived. It's been really good for him. We have some kids in my building that are really good kids. My son can be too trusting. I can't let him out of my sight. He thinks everyone is good. The kids in the building I can trust to come over here and play video games.
A couple of weeks ago I got voted as president of the community. It's up to me to get things rolling. I really want to start a youth program because my child is getting a little older. I've taken him to a few youth programs with some of the neighbor boys. I thought, you know what, I'm going to make a youth program right in the community. The vice president is a retired school teacher. I want to put flyers out. I think there's a lot we can do.
I just want the kids to learn values – how to give back to the community. I think a reward system for picking up trash and helping people with what they need will be good. We can go to the movies or a pool day as a reward.
My son has seen me doing good things. He says, "You're a good person." I feel like everyone deserves love. I don't think we should pick and choose who we decide to help. You have to help people. I want to get him and the kids involved in something like that.
My son doesn't seem to be a city person. He would like a yard. Of course, it makes you think, will I ever be in a financial situation to afford that?
I'm currently on a list for a unit with two bathrooms. My son has a medical condition that requires we have a second bathroom. We've been on the list for years. The paperwork was lost. That's frustrating me quite a bit.
I have not even considered moving. We're settled, so I'm not looking too far in the future.