At HDC, we understand that people's lives are complex, and that housing is a critical foundation to thriving, finding joy, and building success in many facets of life. When someone is stably housed, they can focus on other things like financial capability, food security, educational access, community building, and career advancement.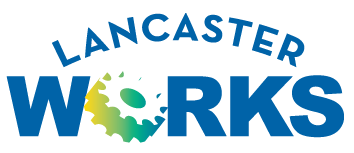 HDC has partnered with Lancaster Works, a workforce development company based in Lancaster, PA, to ensure that HDC residents have access to necessary supports as they consider the next steps in their life including securing a job and advancing their career. Lancaster Works matches aspiring employees with like-minded employers to remove barriers to work and build career pathways. HDC's Resident Services team connects interested residents with the organization to aid in their job search.
"Once an individual has completed an application, we sit down together to discuss their circumstances. Do they have stable housing? Do they have childcare needs? Have they just been released from prison? Do they have transportation?" said Lancaster Works CEO Tyrone Miller. "My goal is to help individuals address barriers to employment so they can reach their full potential and land in a livable-wage career."
"We realized that we can't, and we don't want to do this work alone," he continued. "We rely on partners such as HDC. You are taking care of housing needs. We partner with other organizations that work in childcare, drug dependency, and other areas. I want us to work together to see how we can best support individuals."
HDC's Resident Services team began partnering with Lancaster Works in early 2023 and has already seen success for one HDC resident in Quarryville who was able to avoid eviction by securing a job through this relationship.
Steve Thomas has been a resident at Oak Bottom Village for 12 years and was recently struggling to make rent payments after suffering an injury at work that caused him to lose his job. He was moving toward eviction when he was connected with Lancaster Works. Tyrone referred Steve's resume to a company he thought would be a "perfect fit" due to his specialized skills and work experience.
"Tyrone went out of his way to mesh my abilities with the job requirements," said Steve. "I had this interview on Monday and on Wednesday I had eviction court."
By the time Steve went to court, he was able to prove he had secured a job, set up a repayment plan for his owed rent, and avoid eviction. He's proud that he was able to quickly demonstrate his value to the company.
"It feels really good to walk in there and know I've already shown them that they didn't make a mistake in hiring me," he said.
HDC believes deeply in collaborating with community partners who share our values and mission to build hope and opportunity for all residents to reach their full potential. This partnership with Lancaster Works is a great example of how local organizations can work together to remove barriers and support individuals as they achieve personal success.