At HDC, we believe that everything we do to expand and advocate for affordable housing and support residents must be rooted in the values we hold as an organization. HDC's Core Values guide our direction, inform decisions we make every day, and help us show up for our employees and our residents.​ These values contribute to a culture that is driven by excellence, focused on equity, and ensures HDC is a great place to work for every member of the team.
This year, we took time to examine our values—considering what attributes best reflect the culture we are building and the ways we interact with each other and the communities we serve. As we face new challenges around hiring staff in the wake of the COVID-19 pandemic like many others across the country, we are more committed than ever to ensure those individuals who choose to work here at HDC believe deeply in the work we are doing and the values we hold.
HDC created a task force to look at our values this spring. Members of the team thought deeply about our Core Values and engaged in robust conversation about their importance and impact. The following are HDC's Core Values:
Excellence – We foster a growth-mindset; are forward-looking, strategic, and trusted to deliver results.
Equity – We foster access to equitable options where people have choice and power in determining their future.
Collaboration – We honor and engage diverse perspectives and experiences that inspire innovation and creativity to arrive at the best solutions for the greatest impact.
Community – We cultivate spaces that bring joy, meaning, belonging, and an overall sense of purpose.
Integrity – We are respectful, honest, and authentic in our ideas, decisions, and actions.
The next, more critical step was establishing the actions HDC employees must take every day to align with these values and live them out in their work. We call these actions and attributes our HDC Fundamentals. Every day, HDC employees are asked to reflect on these fundamentals and consider how they show up for their colleagues and for the residents we serve.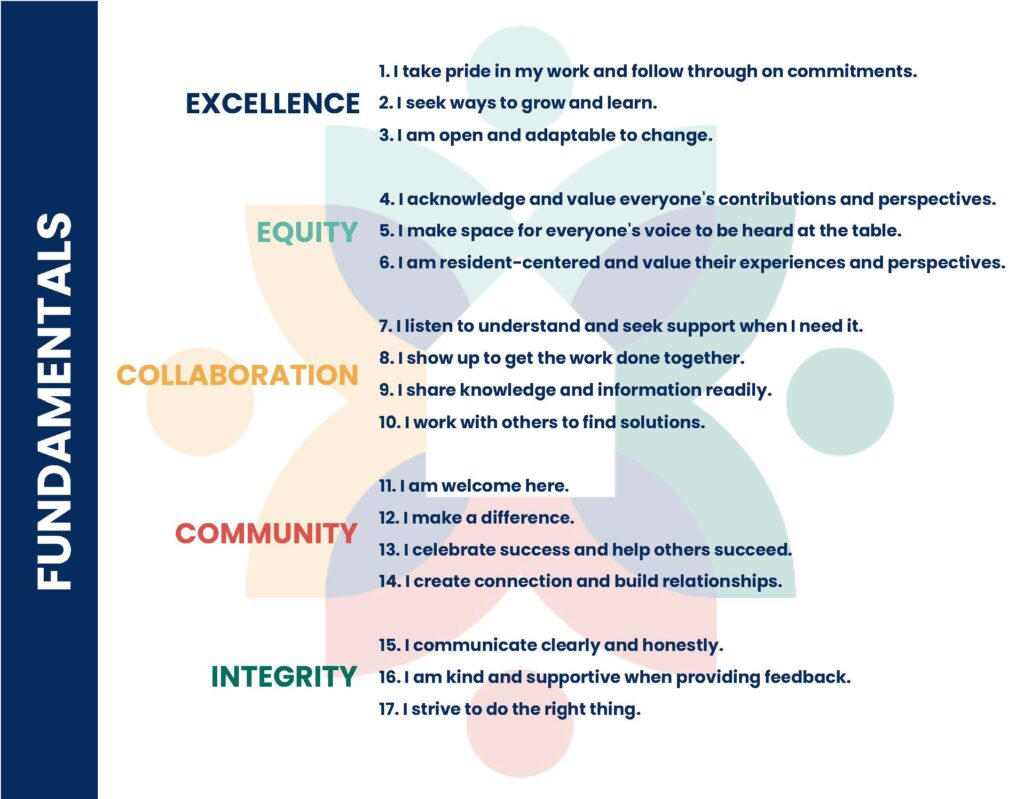 As a people-centered organization, we know that the experiences and perspectives of individuals who both live in HDC housing and choose to work at this organization are critical to making a difference. When we all see ourselves in the work, we are able to show up for each other and create a work-environment where people feel seen, heard, and welcomed. Our HDC Values help us achieve our goals of supporting communities and being an employer of choice in the region.