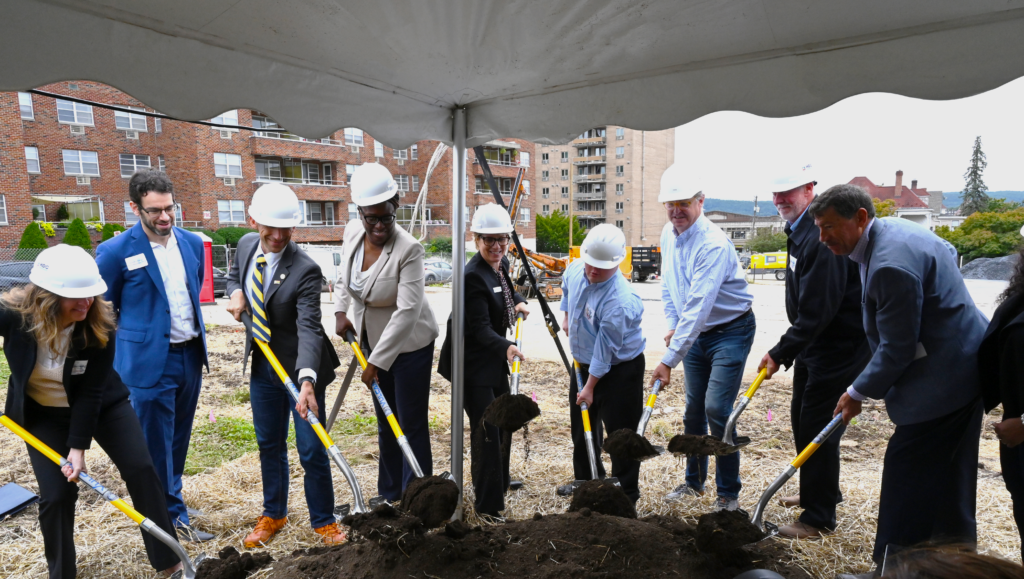 On September 29, HDC was thrilled to mark the official start of construction for our newest affordable housing community, 1528 West Apartments, in Allentown, PA. We celebrated the groundbreaking of this development, which will add 49 affordable apartments for seniors 55+ and adults living with intellectual and developmental disabilities, alongside an enthusiastic group of partners, supporters, and advocates.
More than 50 external partners took part in the celebration, which was held on the site of the future development next to our new neighbors, local nonprofit, The Community Music School. Attendees heard from a slate of speakers who are all invested in the expansion of affordable housing in this region including Allentown Mayor Matt Tuerk; PA Representative Michael Schlossberg; Nakia Parker, Eastern Regional Manager at the Pennsylvania Housing Finance Agency; Melissa Keiser, Vice President at Alliance for Building Communities, Inc.; Bill Meltzer, Chair of the Housing Initiative at the Eastern PA Down Syndrome Center; and Diane Elliott, HDC Board Member. Barry Lee of the Circle Legacy Center provided a land acknowledgement to honor the history of the site.
"We know that everyone here today cares deeply about the City of Allentown and the people who call it home. We are excited to be building new housing, welcoming new neighbors, and forging strong partnerships here in the Lehigh Valley," Dana Hanchin, CEO and President of HDC MidAtlantic said at the event. "As we break ground today, let us celebrate the vibrant and thriving community we are creating together."
This senior community will include 35 one-bedroom and 14 two-bedroom apartments, and 10 apartments will be set aside for individuals living with intellectual and developmental disabilities. 1528 West will serve households earning up to $45,300 a year, with rents ranging from $340 to $1,169.
HDC and our development partner, Alliance for Building Communities, have worked alongside local nonprofit, Eastern PA Down Syndrome Center, to conceptualize this community that will support independent living for individuals living with intellectual and developmental disabilities. We hold residents central to everything we do at HDC, and we are proud that this affordable housing community will provide a place for all residents to reach their full potential, and not just survive but thrive here in the City of Allentown.
"Housing is a right, but it is also not enough," Representative Schlossberg said during his remarks. "You should judge a society on how they treat their most in need. A project like this takes us a step closer to doing that."
This community represents an $18 million direct investment, and will result in three-fold return in the local economy over time. We are proud to contribute to the economic success of this region today, and for years to come.
In addition to 1528 West, HDC owns one other affordable community in the Lehigh Valley, South Side Lofts in Bethlehem, which includes 46 apartments. We own and/or manage 55 other communities in Pennsylvania.